Hi friends!
We've been in full-on inspo mode these past few weeks as we get closer to crossing the finish line at the Vic.  We shared inspo for the kitchen and master suite (you can catch up on previous Vic posts here if you missed them), but haven't shared inspo for the living spaces yet so here goes!
Let's start with the floorplan of floor #1.  The dotted lines show you where we opened up walls around the kitchen (you can see what it looks like here – UGE difference).  Other than that + adding the small powder room off the kitchen, we kept the footprint the same.
The first floor had the most built-in character of all three floors, but that's not saying much.  The mantels, hearth tile, the entire banister, and most of the trim was all missing, but there was some beautiful untouched woodwork and original hardwood floors.  Here's a flashback to what the office/library/parlor used to look like…
And the dining room…
And the living room.
The silver lining in having a wreck of a house to work with is that it left some room for Bryan & I to get creative w/our design.  We were on the same page from the beginning about our vision — we were both drawn to elegant, sophisticated, and classic design, similar to what you'd see in a Parisian apartment.  At the same time, we want it to feel homey and comfortable, not stuffy.  The plan is to add lots of period charm back into the home, balanced with more modern accents.  Vintage + modern lighting,  super comfy couches, flowy curtains, antiques, colorful artwork, plants…

Here's a few photos that have been really inspiring to us as we move along on this house.
Home of Wendy Aldridge, owner of Homeplace | Photo via The Guardian
We love the pops of color against the moody monochromatic walls here.  It almost makes us rethink our white wall direction!  If we do a dark room, it could be the parlor because it's not connected to the others and kind of lends itself to cozyness.
Photo by Sebastian Eras | Designer Unknown (PS, if you want to fall down a rabbit hole of amazing interior photography, check out Sebastian's website)
This dining room has showed up on Pinterest more times than we can count, and every time it stops us mid-scroll.  We'll definitely be on the hunt for a large, brass mirror like this one.
Parisian Apt (designer unknown) | Photo by Sebastian Eras
The Vic had no crown or wall molding, so we're adding it all in thanks to Metrie.  We'll do another post soon with lots of details on what we chose & where we put it.  We LOVE everything about this photo, from the all-white walls and trim to the pops of color and comfy/vintage furnishings.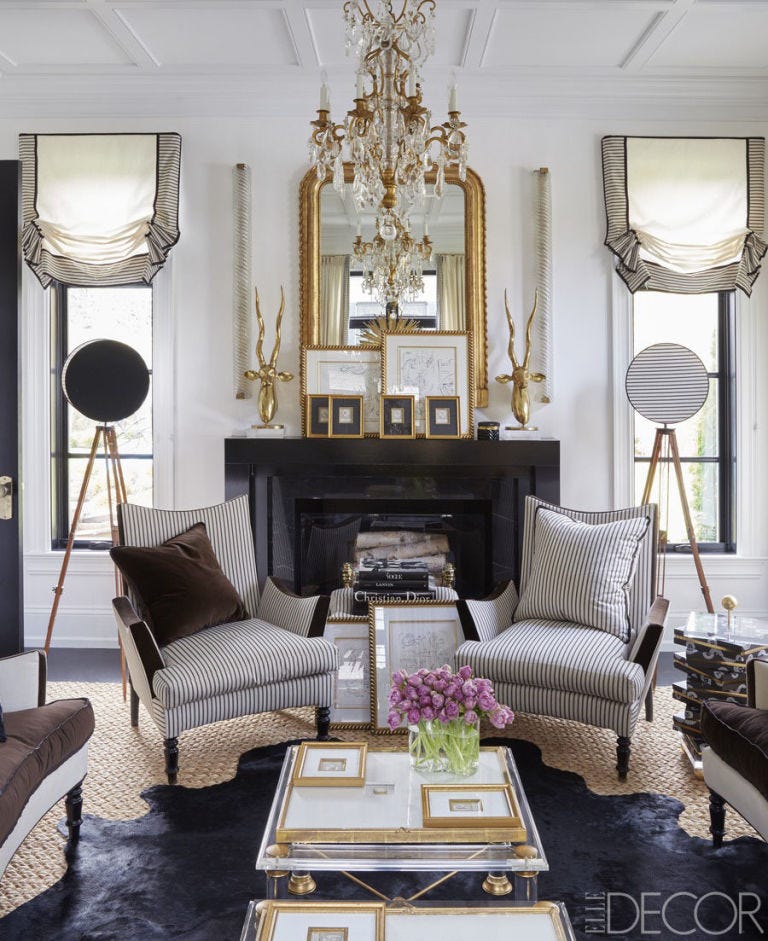 Design by Megan Winters | Photo via Elle Decor
We probably wouldn't go this bold & symmetrical, but we do love the contrast and mix of vintage/modern.  There's a lot going on here, but because the designer stuck with black, white and brass, it doesn't feel overwhelming.
Here's a peak at what the living room looks like now (the dining room has almost exactly the same setup).  We installed Metrie crown on the first and second floors, painted, and are now getting started on installing the wall & ceiling trim.  We're excited!
Also… the original hardwood floors are refinished!  This inlay detail is in every room on the first floor <3
We'll be back with more updates soon!  Follow us on Instagram for lots of sneak peaks until then 🙂